Class 1
Teachers

Mrs A Bromley

Miss S Birkinshaw

Teaching Assistants

Miss R Claydon

Mrs S Ogden

Mrs S Brain

Mrs H Bramley
Spring 2019
Hello 2019! We can't believe that the first term is behind us – but what a busy and exciting half term it was! Class 1 had so much fun learning about our 'Mega Structures' and the class trip to The Hepworth was an enormous success. However, the most exciting thing of all has been getting to know a class full of amazing little people and watching them grow and make friends and memories that will last a lifetime.
The autumn term ended with our brilliant nativity performance 'We Three Kings'. We were so proud of all the children in class 1. We are sure you will agree that they are all shining stars. Please have a look at the photographs at the top of this page. We also had lots of fun in the classroom making cards and calendars to celebrate the festive season.
The Spring term is now here! Our topic focus is My World, Your World. We will be looking at our locality and comparing it with life in Australia. As always, we will be working hard while having lots of fun along the way. In Spring 2 we will be venturing out to the Yorkshire Wild Life Park where we will learn about animals from near and far.
Literacy and maths will have strong links with our topic, along with all the enhancements in our areas of provision. We will be reading stories such as 'Wombat goes Walkabout' and 'They all Saw the Cat.' To develop our knowledge and understanding of the world we will be exploring plants and animals in both the UK and Australia.
This term will also see the start of our Respect Project: children will be given a respect ticket whenever they are demonstrating respect. When they earn this (from any member of staff) they will add their name and place this into the class jar. At the end of the week the winner with the most respect tickets will be announced. How exciting!
A few reminders:
PE days are Tuesday and Wednesday. Please ensure your child has their PE kit on these days.
Friday is Golden time. Your child can bring a small toy from home to play with during this time.
Thank you for all your support over the Autumn term. We have lots to look forward to in 2019 – let the fun begin!
Anti Bullying Week 2018
We had lots of fun thinking about how to be bucket fillers in Anti Bullying Week. Did you know that we all carry invisible buckets that collect all the good things that happen to us each day? Kind words, smiles and hugs are just some of the many things that fill our happy buckets. We are definitely bucket fillers in Class 1! At the end of the week we worked as a team to collect money for Children in Need.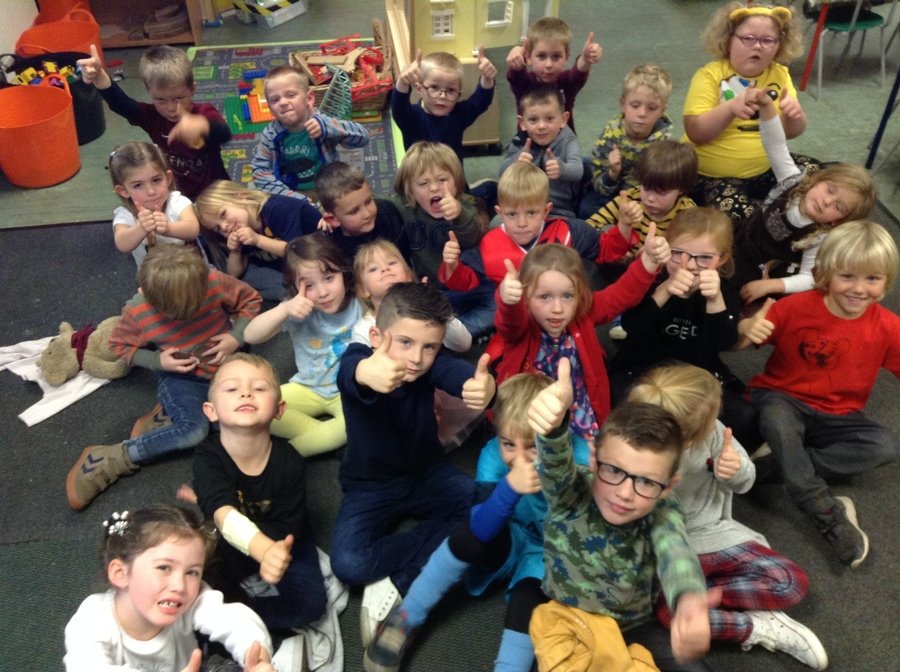 Year 1 Phonic Screen Booklet
Year 1 Spellings Spring 2019