Class 2
Teacher
Miss C Mann
Teaching Assistants
Mrs Brain 1:1 (Monday-Thursday)
Mrs Thomas 1:1 (Friday)
Miss Claydon (Monday-Wednesday)
PE is on Wednesday and Friday.
Homework is to be handed in on a Wednesday.
Spellings are tested and given out on a Friday.
Golden Time is on a Friday.
s
What we have been learning so far
This week we have been making healthy smoothies as part of our Marvellous Me topic. In our design and technology lesson, we all carefully cut up some strawberries and bananas, added some milk and created a yummy smoothie! We then used our evaluation skills to give our opinions on what we liked about the smoothie and what we didn't like. Most children rated it a huge 10/10!
Next week we will be writing instructions on how to make the smoothies, so others can have a go at making them too.
Here are a few photos of us making, tasting and evaluating our smoothies.
Welcome back to the brand new Autumn term, we are so excited to get started! In Class 2 our topic is "Marvellous Me" where we will be thinking all about ourselves. Through this topic we will be looking at the area we live in, learning about our bodies, as well as thinking about how we can stay healthy. Through this topic we will also be thinking about people that help us. We will be taking on the important roles of nurses and surgeons in our doctors role play area!
In Literacy we will be having a keen focus on sentence structure and making sure we have full stops, capital letters and finger spaces in our super sentences! We will be practising these skills alongside writing instructions for making a delicious healthy smoothie, inventing our own twisted traditional tales and writing our own poems. Later in the term we will be writing a diary entry from the viewpoint of historical figures Florence Nightingale or Mary Seacole. We will be doing this through our EPIC writing scheme- we can't wait for you to see what we invent!
In Maths we will be spending the term learning about place value, addition and subtraction, money and will have a weekly lesson on shape space and measure. I wonder how much it will cost Miss Mann to buy a healthy snack?
Please feel free to check the Curriculum Planner below so you can see what else we will be learning this term!
Golden 20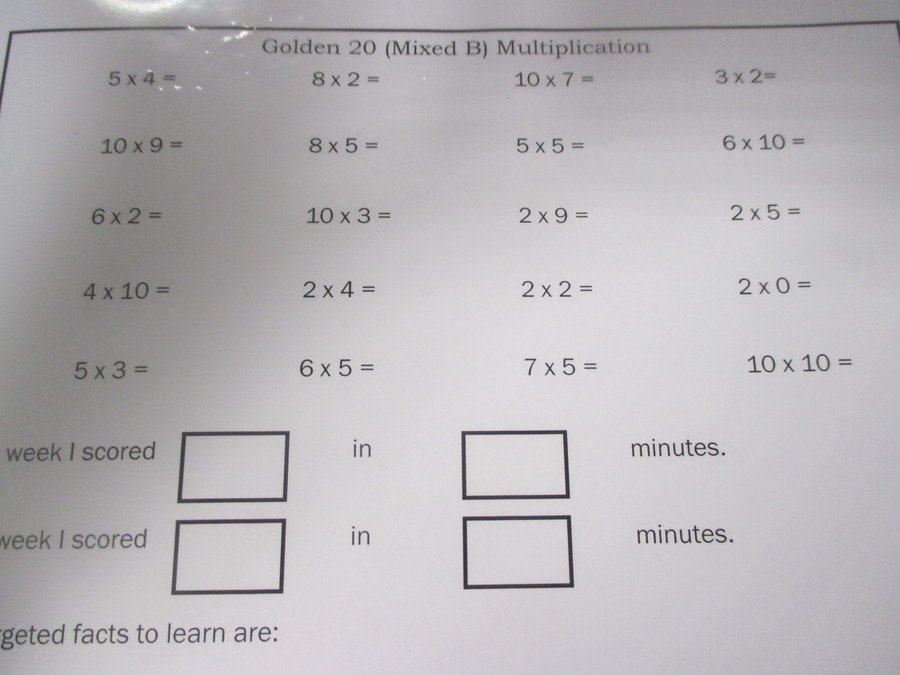 To help develop our mental maths skills and develop fluency each week the Y2s undertake the Golden 20 challenge. This is for for both multiplication and division. The children have 10 minutes to complete the multiplication or division number sentences (see the example above) . When they are successful they will then attempt to complete this in a shorter period of time, before moving onto the next Golden 20 challenge. These are focused on the 2,5 and 10 times tables, so any help at home working on these would be great. Whilst we won't focus on the calculation methods for multiplication and division at this point in the year these are great mental skills to practise. We will also still continue with the half termly Mega Maths Multiplication challenge, for which children achieve a certificate upon completion.