Class 2
Teacher
Miss C Mann
Teaching Assistants
Mrs S Ogden Monday - Friday am
PE is on Wednesday.
Homework is to be handed in on a Wednesday.
Spellings are tested and given out on a Friday.
Reading for Pleasure
We want all our children to develop a love for reading and to become life long readers. Please find some recommended books below for your child's age that you may want to add to your book collection at home.
Welcome back and Happy New Year! I know that the year hasn't quite begun how we had hoped but we look forward to seeing the fantastic work the children will be completing at home. You should now have your login details for the VLE to access the online learning provision. You can still find details about the spring term learning plans on this page, including homework; please feel free to complete some of these tasks if you choose. Stay safe and take care everyone.
The autumn term flew by and Class 2 really enjoyed learning during our topic 'The Heat is On.' It was brilliant to see the children back in school and to see how they adapted so easily to new routines in our classroom. New friendships were formed and children enjoyed sharing their experiences of learning from home. We finished the autumn term with our Nativity 'The Bossy King' which I think you will agree with me when I say the children were amazing performers! They were so dedicated to their parts and I was so proud of every child in Class 2.
The spring term is now here! Our topic focus is 'Mega Structures'. We will be thinking about famous buildings and landmarks from all over the world. We will explore maps, both UK and world and also enhance our history learning by thinking about Queen Victoria and how her life compares to that of our current Queen. As always, we will be working hard while having lots of fun along the way.
Literacy and maths will have strong links with our topic, along with all the enhancements in our area of provision which has turned into a building site! We will be reading stories such as the Three Little Pigs, The Three Billy Goats Gruff and The Colour Monster. To develop our knowledge and understanding of the world we will be exploring seasons in our Science lessons.
Spellings will be available on the VLE and on our class page here. Each Friday the children will be tested and new spellings will be sent out the same Friday. Every other week a spelling rule video for the year 2 children, which goes alongside the spelling units, will be uploaded. Homework is optional and is to be handed in on Wednesdays. Please find the homework letter under 'Useful Documents' below for each year group.
Thank you for all your support over the autumn term. We have lots to look forward to in 2021 – let the fun begin!
Golden 20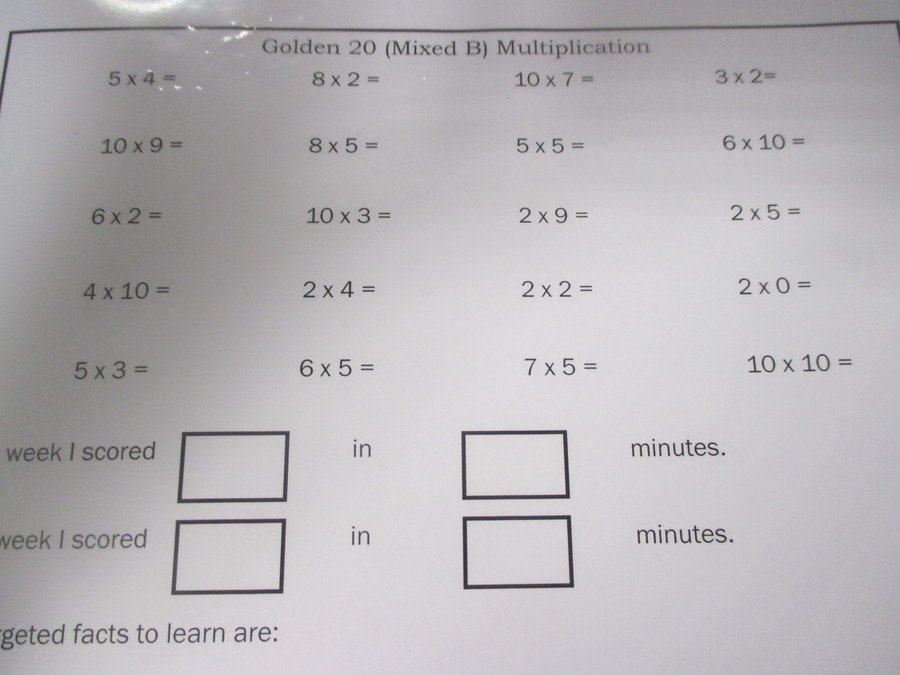 To help develop our mental maths skills and develop fluency each week the Y2s undertake the Golden 20 challenge. This is for for both multiplication and division. The children have 10 minutes to complete the multiplication or division number sentences (see the example above) . When they are successful they will then attempt to complete this in a shorter period of time, before moving onto the next Golden 20 challenge. These are focused on the 2,5 and 10 times tables, so any help at home working on these would be great. Whilst we won't focus on the calculation methods for multiplication and division at this point in the year these are great mental skills to practise. We will also still continue with the half termly Mega Maths Multiplication challenge, for which children achieve a certificate upon completion.