Class 2
Teacher
Miss C Mann
Teaching Assistants
Miss Pearson Mon - Fri am
Mrs Brain Mon am, Weds am, Fri all day.
Mrs Thomas Mon pm, Tues all day, Weds pm, Thurs all day.
PE is on Monday.
Homework is to be handed in on a Wednesday.
Spellings are tested and given out on a Friday.
Reading for Pleasure
We want all our children to develop a love for reading and to become life long readers. Please find some recommended books below for your child's age that you may want to add to your book collection at home.
Autumn Term 2021
Welcome back to autumn term! It has been so lovely to welcome class 2 back to school and begin their final year as infants. We have been so impressed with the children's enthusiasm and eagerness to learn in the first week back and we look forward to a positive term ahead where we can succeed and achieve our goals together. In class 2 this year we are a single year 2 cohort with myself (Miss Mann) as class teacher. Supporting us in class at various points through the week will be Mrs Brain, Miss Pearson and Mrs Thomas.
Our topic this term is Love Where You Live. We will be developing our geography skills by comparing old maps of Hoylandswaine with new ones and devising our own maps of Hoylandswaine. We will also be looking at examples of human and physical geography in our local area. We will develop our history knowledge by learning about the history of our local area (including our school!) and creating timelines from our own lives. In science we will be developing our knowledge of animals including humans. As always, we will be working hard while having lots of fun along the way. More information about the different aspects of our curriculum learning will soon be added to our class web page.
In year 2, the children will begin their Golden 20 which helps them to recall and use their 2, 5 and 10 times tables under timed conditions. If you'd like to learn more about the Golden 20 or practise at home please scroll further down to find out more information. The Golden 20 sheets can be downloaded under the file list 'Maths Resources.'
Each Friday the children will continue to be tested and new spellings will be sent out the same Friday. Every other week a spelling rule video for the year 2 children, which goes alongside the spelling units, will be uploaded. Homework is optional and is to be handed in on Wednesdays. The homework letter form this term will be found under the file list 'Useful Documents' soon.
Our PE slot this year is now on Monday afternoons so on this day please send your child into school wearing PE clothes (white shirt with a navy/black jumper or jacket and navy/black shorts and/or tracksuit bottoms). Miss Lockwood will deliver all PE sessions in her role as Sports Coach in collaboration with class teachers over the term.
We are looking forward to learning together and having lots of fun along the way. Let's go!
Useful documents
| Name | |
| --- | --- |
| Class 2 Year 2 Homework Autumn 2021.pdf | Download |
Showing 1-1 of 1
Golden 20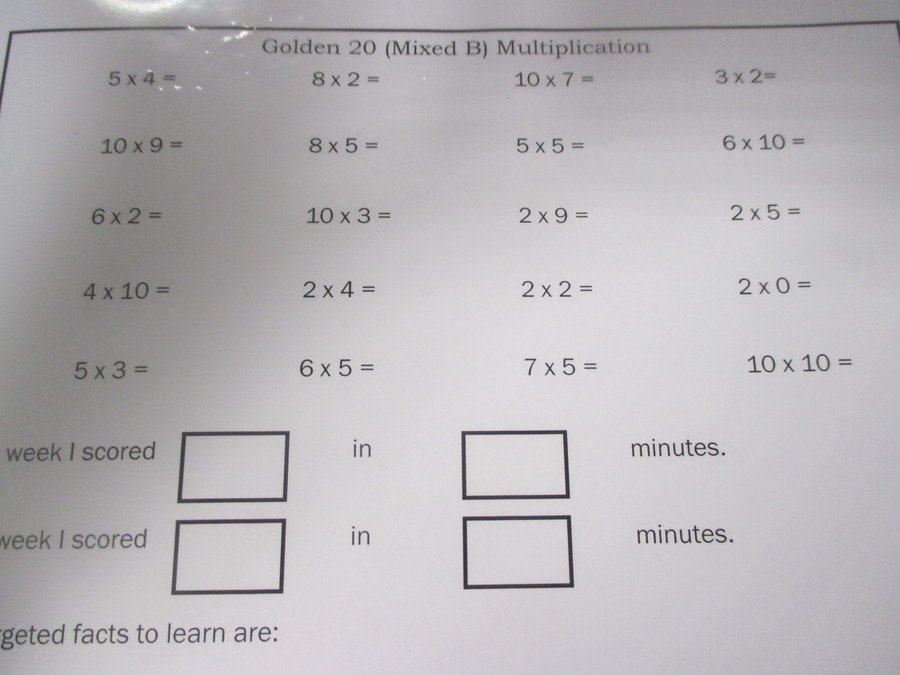 To help develop our mental maths skills and develop fluency each week the Y2s undertake the Golden 20 challenge. This is for for both multiplication and division. The children have 10 minutes to complete the multiplication or division number sentences (see the example above) . When they are successful they will then attempt to complete this in a shorter period of time, before moving onto the next Golden 20 challenge. These are focused on the 2,5 and 10 times tables, so any help at home working on these would be great. Whilst we won't focus on the calculation methods for multiplication and division at this point in the year these are great mental skills to practise. We will also still continue with the half termly Mega Maths Multiplication challenge, for which children achieve a certificate upon completion.