Class 2
Teacher
Miss C Mann
Teaching Assistants
Mrs S Ogden Monday - Friday am
PE is on Wednesday.
Homework is to be handed in on a Wednesday.
Spellings are tested and given out on a Friday.
Reading for Pleasure
We want all our children to develop a love for reading and to become life long readers. Please find some recommended books below for your child's age that you may want to add to your book collection at home.
SPORTS DAY 2021
Class 2 really enjoyed their sports day with Miss Lockwood and Mrs Ogden even though it was a little different than usual. Please find a snapshot of our afternoon below. Apologies for some of the blurrier pictures - the children were just too speedy for our camera!
Welcome to summer term!
Spring term has flown by and we are so excited to be back in class for summer term. Our topic this term is Go Explore - Australia! We will be developing our geography skills by using maps, atlases and globes to identify where we live and where Australia is as well as identifying surrounding oceans. We will be finding out lots more information about Australia such as key cities, landmarks and animals. As always, we will be working hard while having lots of fun along the way. If you would like to find out more please find our curriculum letter on this page under 'useful documents.'
Literacy will have strong links with our topic, along with all the enhancements in our small area of provision which has turned into a travel agents! We will be reading stories such as the We're Going on a Bear Hunt, Where the Wild Things Are and The Rainbow Fish. In maths we will be looking at numbers to 50 and 100, multiplication and division, money, time and lots more.
Each Friday the children will continue to be tested and new spellings will be sent out the same Friday. Every other week a spelling rule video for the year 2 children, which goes alongside the spelling units, will be uploaded. Homework is optional and is to be handed in on Wednesdays. Please find the homework letter under 'Useful Documents' below for each year group.
PE will be with our sports coach Miss Lockwood every Wednesday, so please remember to come to school in your PE kit on Wednesdays.
Thank you for your support over the spring term. We are looking forward to spending our summer term learning together again!
Golden 20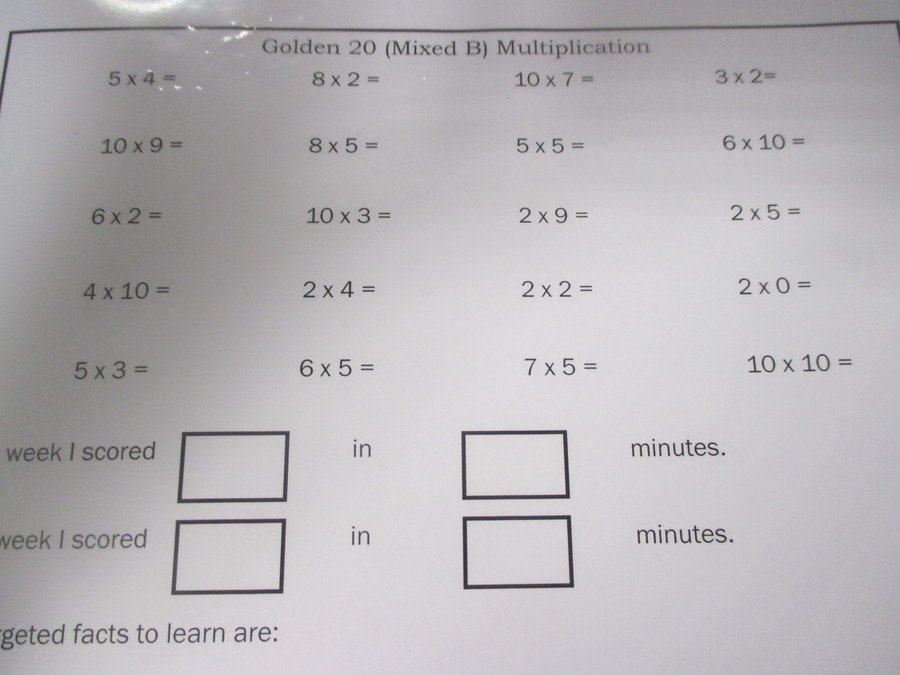 To help develop our mental maths skills and develop fluency each week the Y2s undertake the Golden 20 challenge. This is for for both multiplication and division. The children have 10 minutes to complete the multiplication or division number sentences (see the example above) . When they are successful they will then attempt to complete this in a shorter period of time, before moving onto the next Golden 20 challenge. These are focused on the 2,5 and 10 times tables, so any help at home working on these would be great. Whilst we won't focus on the calculation methods for multiplication and division at this point in the year these are great mental skills to practise. We will also still continue with the half termly Mega Maths Multiplication challenge, for which children achieve a certificate upon completion.