Class 2
Teacher
Miss C Mann
Teaching Assistants
Mrs Brain Mon - Fri
Miss Pearson Mon - Thurs
PE is on Monday..
Spellings are tested and given out on a Friday.
Reading for Pleasure
We want all our children to develop a love for reading and to become life long readers. Please find some recommended books below for your child's age that you may want to add to your book collection at home.
Spring Term 2022
Happy New Year and welcome to spring term! We are back and raring to go. It has been so lovely to see how keen and eager the children are to learn since coming back after Christmas. In class 2 this term we have myself Miss Mann and our super teaching assistants Mrs Brain and Miss Pearson.
Our topic this term is All Aboard! We will be improving our history skills by focusing on the Victorian Era. As the title suggests, our topic will link to trains too. We will be looking back at the history of trains and creating a timeline to show how trains have developed over time. Within our history lessons we will be assessing historical evidence and finding out more information about Queen Victoria and life as a Victorian. As always, we will be working hard while having lots of fun along the way.
In literacy we will be starting the term focusing on the narrative Alice in Wonderland where we will be writing a character description initially. We were appalled when saw such a mess on the floor in our classroom! In maths we will visit each area of maths on a weekly basis starting with place value and addition. Don't forget to keep practising on TT Rockstar's at home too!
Each Friday the children will continue to be tested and new spellings will be sent out the same Friday. Please find these on our new online system 'Seesaw.' You will find homework on there too as well as exciting weekly updates from our class about what we have been learning this week.
Our PE slot this year is still on Monday afternoons so on this day please send your child into school wearing PE clothes (white shirt with a navy/black jumper or jacket and navy/black shorts and/or tracksuit bottoms). Miss Lockwood will deliver all PE sessions in her role as Sports Coach in collaboration with class teachers over the term.
We are looking forward to continuing to learn together, push ourselves to meet our goals and have lots of fun along the way. Let's go!
Golden 20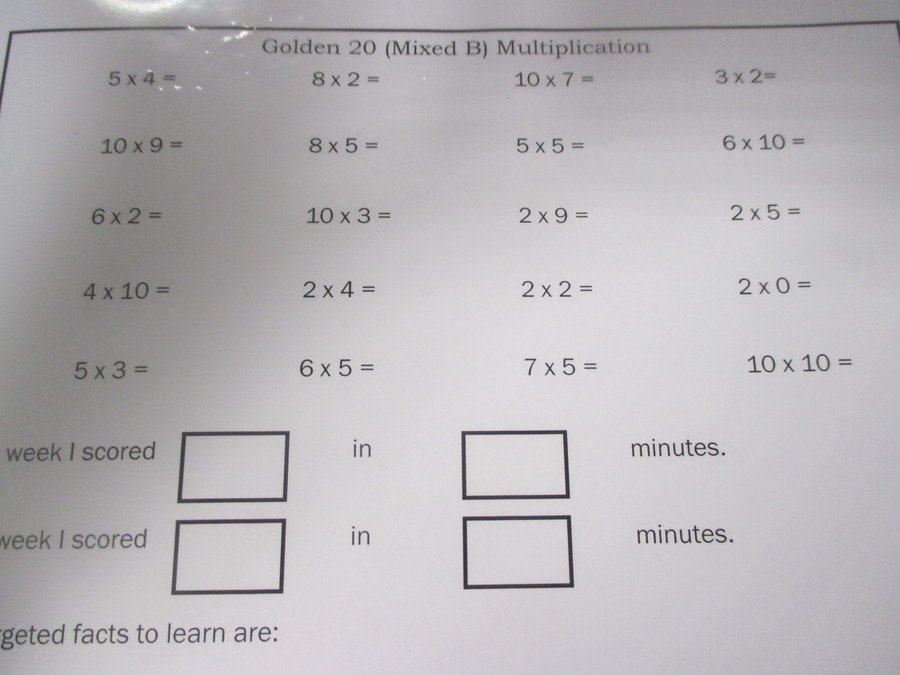 To help develop our mental maths skills and develop fluency each week the Y2s undertake the Golden 20 challenge. This is for for both multiplication and division. The children have 10 minutes to complete the multiplication or division number sentences (see the example above) . When they are successful they will then attempt to complete this in a shorter period of time, before moving onto the next Golden 20 challenge. These are focused on the 2,5 and 10 times tables, so any help at home working on these would be great. Whilst we won't focus on the calculation methods for multiplication and division at this point in the year these are great mental skills to practise. We will also still continue with the half termly Mega Maths Multiplication challenge, for which children achieve a certificate upon completion.