Class 2
Teacher
Miss C Mann
Teaching Assistants
Mrs S Ogden Monday - Friday am
PE is on Wednesday.
Homework is to be handed in on a Wednesday.
Spellings are tested and given out on a Friday.
Reading for Pleasure
We want all our children to develop a love for reading and to become life long readers. Please find some recommended books below for your child's age that you may want to add to your book collection at home.
Welcome back! I hope that you all had a lovely summer break and are excited to be back after quite an unusual end to the last academic year. It will be great to see some familiar faces back in Class 2 as well as meet new faces joining us from Class 1! Working in Class 2 this year will be me, Miss Mann, and our wonderful teaching assistant Mrs Ogden.
Class 1 and Class 2 will be learning about the same topics and learning will be tailored to the different year groups. Our topic title for Autumn term is 'The Heat is On!' where the children will learn all about The Great Fire of London. Although the children will develop a range of historical skills such as placing events on a chronological timeline and using a variety of sources to find out about the past, the topic will link to other foundation subjects too. Please see the curriculum map linked under 'Useful Documents' to see what else the children will be learning throughout the term.


In literacy we will start the term by focusing on the structure of a sentence. We will be checking our work for capital letters, full stops and finger spaces and will practise forming our letters accurately. As the term goes on, we will extend our sentences by using a variety of punctuation and include conjunctions, extended noun phrases and adverbs to make our sentences more detailed and exciting. These skills will be taught through a variety of genres such as narrative, poetry, labels and captions and writing a story that mimics a significant author. We will be reading lots of exciting books which will be linked to our learning such as A Bear Called Paddington, The Colour Monster and The Tiger Who Came to Tea.
In maths we will focus on understanding place value to 10, 20, 50 and 100. Later in the term we will move onto addition and subtraction with money included in the unit. Each Friday we will have a shape, space or measure lesson. Year 2 children will undertake a weekly Golden 20 multiplication and Golden 20 division timed activity. If you would like more information about the Golden 20 and would like download the Golden 20 sheets to practice at home, please find them under the Golden 20 and maths methods tab below.
Spellings will be sent home every week on a Friday and children will be tested on the following Friday. You will find spellings for the half term available below. Every other week a spelling rule video for the year 2 children, which goes alongside the spelling units, will be uploaded. Homework is optional and is to be handed in on Wednesdays. Please find the homework letter under 'Useful Documents' below for each year group.
Hopefully this new term can bring a sense of a new normal and routine back into everyone's lives. We are so happy to have the children back in our classrooms learning again and look forward to seeing them flourish over the next term!
Golden 20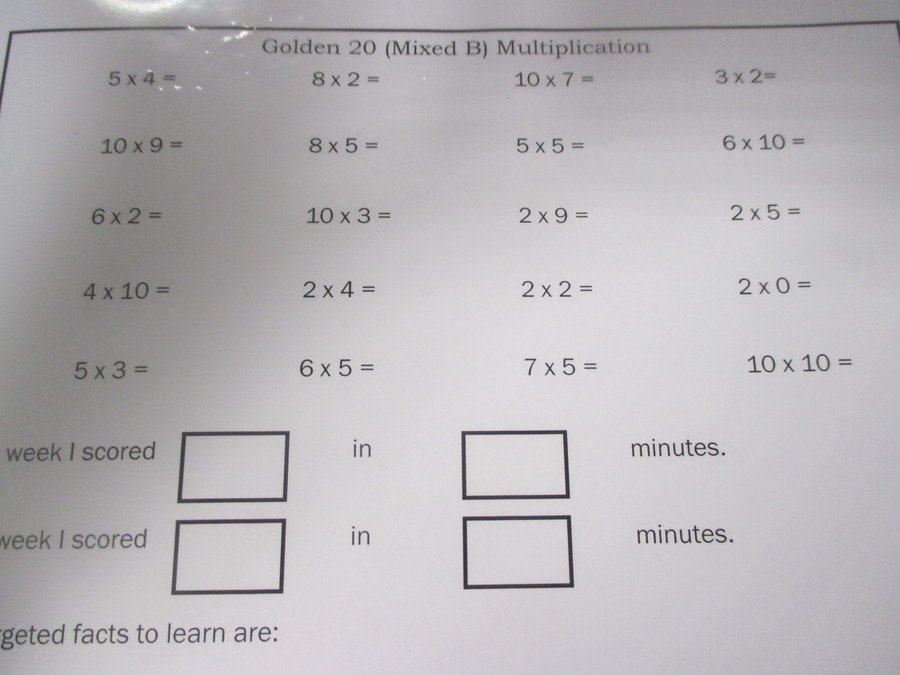 To help develop our mental maths skills and develop fluency each week the Y2s undertake the Golden 20 challenge. This is for for both multiplication and division. The children have 10 minutes to complete the multiplication or division number sentences (see the example above) . When they are successful they will then attempt to complete this in a shorter period of time, before moving onto the next Golden 20 challenge. These are focused on the 2,5 and 10 times tables, so any help at home working on these would be great. Whilst we won't focus on the calculation methods for multiplication and division at this point in the year these are great mental skills to practise. We will also still continue with the half termly Mega Maths Multiplication challenge, for which children achieve a certificate upon completion.