Class 2
Teacher
Miss C Mann
Teaching Assistants
Mrs Brain 1:1 (Monday-Thursday)
Mrs Thomas 1:1 (Friday)
Miss Claydon (Monday-Wednesday)
Mr Seymour (Thursday-Friday am)
PE is on Wednesday and Friday.
Homework is to be handed in on a Wednesday.
Spellings are tested and given out on a Friday.
What we have been learning so far
Last term we had so much fun on our trip at the Yorkshire Sculpture Park. We saw so many different sculptures. Some of them were so huge and colourful as you can see in the photos. We were amazed! We really enjoyed listening to the stories behind the sculptures as well building our own. We worked in teams to make even bigger sculptures with lots of different materials.
After our trip we saw the pictures of the sculptures again in our literacy work. We explored using adjectives and expanded noun phrases in sentences. Here are some examples of the children's expanded noun phrases to describe the sculpture Buddha by Niki de Saint Phalle:
"The golden, glimmering Buddha."
"The colourful, peaceful, ancient Buddha."
The calm, relaxing, still Buddha."
We look forward to our next trip!
Welcome back to the start of the Spring term and Happy New Year! We have worked so hard in the Autumn term and we are so excited to get started again. In Class 2 our topic is Knights and Castles. Throughout this topic we will be thinking historically and learning about The Battle of Hastings. We will also be learning about Kings and Queens with a specific focus on Queen Victoria and Queen Elizabeth II. We look forward to visiting our medieval castle in our role play area and learning about the parts of a castle!
As Spring is around the corner we will begin to look at the life cycle of plants before having a go at growing our own plants in different conditions. We will take part in our own scientific investigations making predictions and answering "Big Questions" that Miss Mann will ask us. For example, which material would work the best for a water bottle?
In Literacy we will continue to develop our skills on sentence structure and making sure we have full stops, capital letters and finger spaces in our super sentences! We will make our sentences even more interesting with expanded noun phrase, adjectives and adverbs. We will be practising these skills alongside mimicking a significant author, writing a non-chronological report about Queen Elizabeth II, writing instructions and using labels and captions.
In Maths we will be spending the term re-capping place value before moving on to multiplication and division as well continuing our weekly lessons on shape space and measure. We will be focusing more on money in this session this term. I wonder how much it will cost Miss Mann to enter the Medieval Castle?
Please feel free to check the Curriculum Planner below so you can see what else we will be learning this term!
Golden 20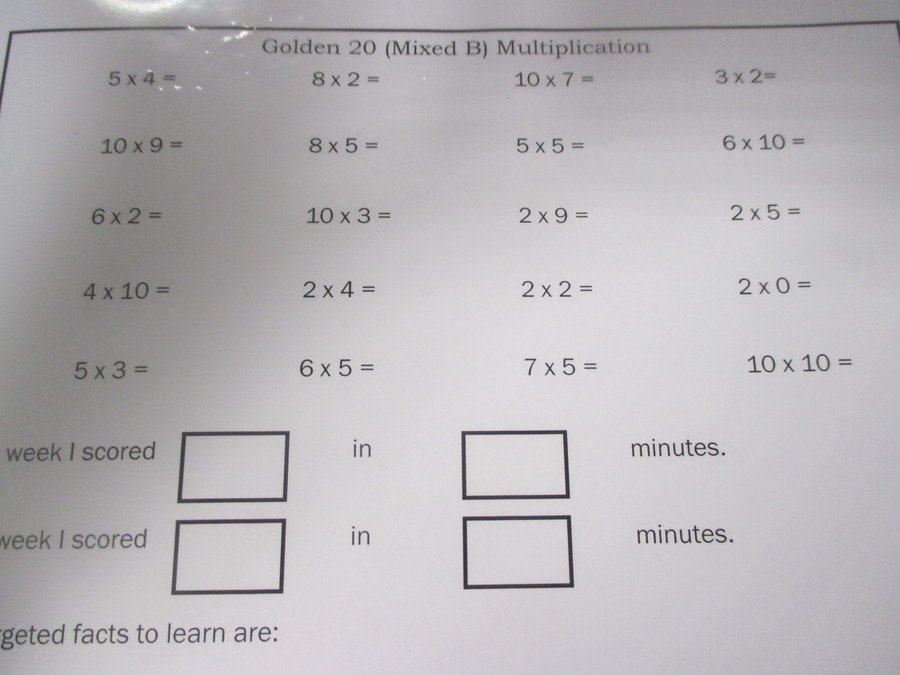 To help develop our mental maths skills and develop fluency each week the Y2s undertake the Golden 20 challenge. This is for for both multiplication and division. The children have 10 minutes to complete the multiplication or division number sentences (see the example above) . When they are successful they will then attempt to complete this in a shorter period of time, before moving onto the next Golden 20 challenge. These are focused on the 2,5 and 10 times tables, so any help at home working on these would be great. Whilst we won't focus on the calculation methods for multiplication and division at this point in the year these are great mental skills to practise. We will also still continue with the half termly Mega Maths Multiplication challenge, for which children achieve a certificate upon completion.