Class 2
Teacher
Miss C Mann
Teaching Assistants
Mrs S Ogden Monday - Friday am
PE is on Wednesday and Friday.
Homework is to be handed in on a Wednesday.
Spellings are tested and given out on a Friday.
What we have been learning so far
Last term we had so much fun on our trip at the Yorkshire Sculpture Park. We saw so many different sculptures. Some of them were so huge and colourful as you can see in the photos. We were amazed! We really enjoyed listening to the stories behind the sculptures as well building our own. We worked in teams to make even bigger sculptures with lots of different materials.
After our trip we saw the pictures of the sculptures again in our literacy work. We explored using adjectives and expanded noun phrases in sentences. Here are some examples of the children's expanded noun phrases to describe the sculpture Buddha by Niki de Saint Phalle:
"The golden, glimmering Buddha."
"The colourful, peaceful, ancient Buddha."
The calm, relaxing, still Buddha."
We look forward to our next trip!
A message for the new school year from Miss Mann

Firstly I'd like to welcome you to Class 2 – it will be great to see some familiar faces back in our class from September as well as meet new faces from Class 1 too. It has been an unusual end to the current year, but as a school we can't wait to have everyone back together again.

Working in Class 2 this year will be myself Miss Mann and our teaching assistant Mrs Ogden. On a morning children will come into class and put their coats and bags on their pegs, put lunch boxes in the labelled box in the cloakroom and then water bottles will be placed in the labelled box by the sink. The children will have a morning activity waiting on their desks for them to complete independently. The activities will be rotated to suit the needs of the children and will link with learning they have undertaken. This will allow them to start their day in a calm, purposeful manner.

We will be using a creative thematic approach to our learning, linking together our knowledge and understanding from our topic with a variety of writing opportunities and exciting reading material to go alongside this. Class 1 and Class 2 will be learning about the same topics and learning will be tailored to the different year groups. Our topic title for Autumn term is 'The Heat is On!' where the children will learn all about The Great Fire of London.

Due to the unfortunate circumstances we are unable to have a transition day where the children usually produce a piece of work where they tell me all about themselves. In preparation for September I would like the children to create a poster of themselves at home ready to put on a lovely new display showcasing our new class. On this page you will find the A4 template of a picture frame. I would like the children to draw a self-portrait of themselves in the middle, leaving some space at the top to write their name and draw pictures of some things that they enjoy to do. For example it could be a picture of a football or a bike. Make it nice and colourful and don't forget to colour the frame in too! When I receive these I will cut them so that only the frame goes in display so anything outside the frame won't be included.

I can't wait to see what you create so I can get to know you all more before September! If you could either post these into school or scan them and email them by Friday 10th July 2020, that would be great.

In the meantime have a fantastic summer holiday, I'm really looking forward to seeing you all soon!
Golden 20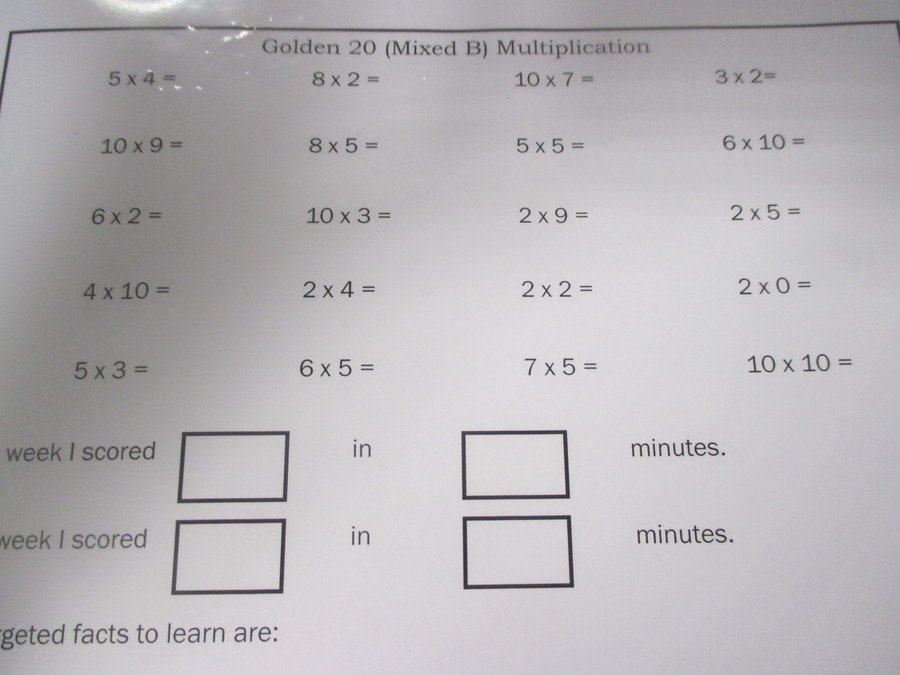 To help develop our mental maths skills and develop fluency each week the Y2s undertake the Golden 20 challenge. This is for for both multiplication and division. The children have 10 minutes to complete the multiplication or division number sentences (see the example above) . When they are successful they will then attempt to complete this in a shorter period of time, before moving onto the next Golden 20 challenge. These are focused on the 2,5 and 10 times tables, so any help at home working on these would be great. Whilst we won't focus on the calculation methods for multiplication and division at this point in the year these are great mental skills to practise. We will also still continue with the half termly Mega Maths Multiplication challenge, for which children achieve a certificate upon completion.